Yiwu artificial flower market is located in yiwu international trade city district 1 first floor. Market open from 9:00am to 6:00pm.  it already has more than 1000 shops sells various kinds of artificial flower and artificial flowers accessories......
Yiwu bags and suitcases market is in the 1st  Floor of Yiwu international trade city District 2, which opens 9 a.m.to 5:30 p.m. There are hundreds of factories and thousands of shops in Yiwu bags and suitcases market......
Yiwu belts market is located in yiwu internatial trade city district 3, it opens from 9 a.m. to 5:30 p.m. This market ranges over more than 10000 merchants, including various of different styles and materials such as man belt, lady belt, real leather belt, cotton and linen blet ,PU belt, PVC belt and so on......
Yiwu Futian market, also called Yiwu international trade market, is located in the middle of Zhejiang province. Near its south is Guangdong, Fujian and Yangtze river hinterland is in the west. To its east is the biggest city – Shanghai, facing the Pacific golden channel. Yiwu now is the world's largest commodity distribution center. It was determined as the world's largest market by the UN, the world bank and other international authority......
Yiwu toys market started from end of the 1980s. At first, the main business fields was just in international trade city district 1.It have 2250 shop, Business area of over 20000 square meters. It is on a big scale and still be extended. There are thousands kinds of toys in the market. In the exported goods from Yiwu, toys take up 60%. Chinese brands and International ones set up franchisees in Yiwu toys market. A large numbers of toys are exported to China and over 200 countries and areas abroad......
Yiwu stationery market is located in yiwu international trade city district 3, second floor, Market open from 9:00am to 5:30pm.The market has more than 3000 stationery stores. Products including: pen,paper, school bag, eraser, pencil sharpener,notebook, clips, book cover,correction fluid......
YIWU SHOES MARKET OPENING TIME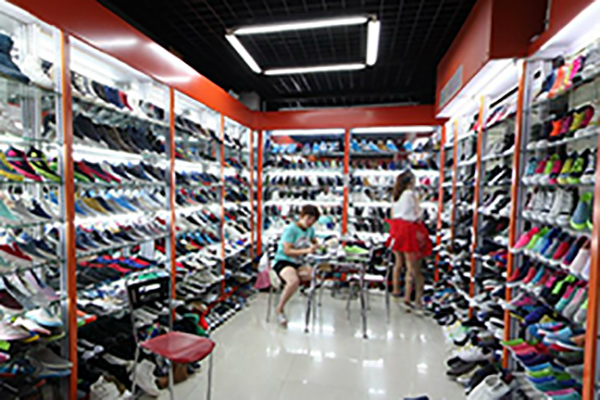 Yiwu shoes market  now it was moved to NO.4 district of the yiwu international trade city. If you are in the yiwu railway station, then you can by 801 and 802 to come to this market
Yiwu Shoes Market Opening Time with 9:00 to 18:00.Here you can buy or order any style and variety you want.
yiwu scarf and shawls market located in Yiwu international trade city district 4, The scarf and shawls market Opening Time is 09:00 – 18:00......
One of the main products in yiwu market is the jewelry. Yiwu jewelry market is mainly in the second floor of the international trade market district 1. You can find every accessory like headwear, earrings, necklaces, bracelets, rings, jewelry, waist decorations and so on......
Yiwu huangyuan market is located in the prosperous xiuhu business area, covers an area of 117mu, which including 42 square meters of building area, with the investment of 14 billion, it is put into use from April,2011. Yiwu huangyuan markets business time from 7:30 am to 20:30 at night......